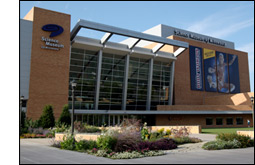 The exhibition RACE: Are we so different? began a national tour in 2007, which ended in 2018. During this time, it was seen by more than 3 million people visiting 48 locations around the US.
The exhibition brings together the everyday experience of living with race, its history as an idea, the role of science in that history, and the findings of contemporary science that are challenging its foundations.
Interactive exhibit components, historical artifacts, iconic objects, compelling photographs, multimedia presentations, and attractive graphic displays offer visitors to RACE an eye-opening look at its important subject matter.
Developed by the American Anthropological Association in collaboration with the Science Museum of Minnesota, RACE has been the first nationally traveling exhibition to tell the stories of race from the biological, cultural, and historical points of view. Combining these perspectives offers an unprecedented look at race and racism in the United States.
The exhibition is on long-term display at the Science Museum of Minnesota in the Twin Cities, and at the Museum of Us in San Diego. It will soon be on long-term display at the North Carolina Museum of Natural Sciences in Raleigh. Accompanying each of these displays are a variety of educational resources for